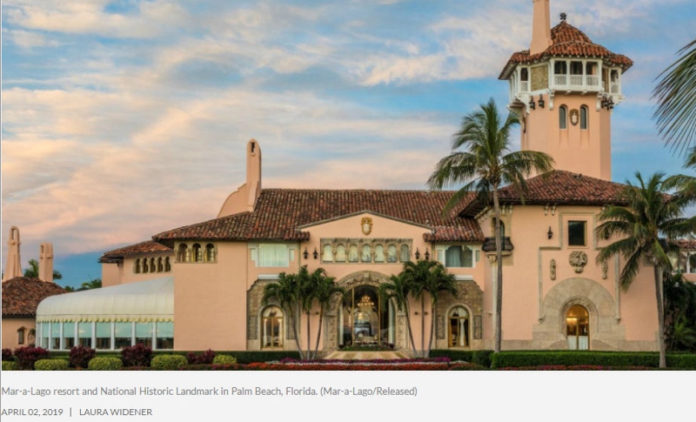 A Chinese woman carrying computer equipment and a malware device was arrested at President Trump's Mar-a-Lago resort in Florida on Saturday.
Secret Service arrested Yujing Zhang for providing false information to law enforcement and entering prohibited areas, after she was found with four cell phones, one laptop, an external hard drive, two Chinese passports, and a thumb drive containing malware, according to court documents posted online on Monday.
"A preliminary forensic examination of the thumb drive determined it contained malicious malware," the documents stated.
The documents, which were filed in the U.S. District Court for the Southern District of Florida, state that Zhang later told Secret Service agents that "her Chinese friend 'Charles' told her to travel from Shanghai, China to Palm Beach, Florida to attend this [UN Chinese American Association] event and attempt to speak with a member of the President's family about Chinese and American foreign economic relations."
President Trump was reportedly not on the grounds at the time of the arrest, but was golfing nearby.
Mar-a-Lago staff believed Zhang to be a family member of an existing club member, so they permitted her access after she told them she was there to visit the pool. Agents later discovered she had no swimming attire in her possession.
Zhang had told a receptionist that she was attending a United Nations Chinese-American Association Event that day, but the receptionist confirmed that no such event was held that day. Zhang was also not on any authorized access list, prompting the receptionist to contact Secret Service.
Zhang was detained and transported to the regional Secret Service office in West Palm Beach after becoming "verbally aggressive with agents" over her unauthorized access.
Zhang appeared in court on Monday, and a detention hearing will be held April 8, WPTV News reported.
The false statement charge has a maximum penalty of five years imprisonment and a fine of $250,000. The restricted area charge has a maximum penalty of one year imprisonment and a fine of $100,000.